At Reading Success Plus, we believe that reading is important – probably the most important skill you will ever learn. It's even in our name: "Reading Success." But the "Plus" matters, too.
One of the "pluses" we try to offer our students is an increased sense of self-esteem, helping them to become the complete person they can be.
"We do a really good job at RSP asking kids to find their passions in life," says Lawrence Kloth, co-founder of Reading Success Plus. "It's really important to become the whole individual."
Unfortunately, many of our students come in with their self-confidence already battered by a lifetime of struggles or failure at school.
"Naturally, your self-esteem is down in the dumps when you know you're not excelling in school, when the person next to you can read the book and you can't. It's very discouraging," Lawrence says.
Our message: You can succeed
Our confidence-building efforts begin before students even start the program. When they come for their initial screenings, they are shown our "Wall of Fame," a photo gallery showing famous people in all fields – actors, musicians, scientists, athletes, business titans, historic figures – who have or are believed to have had dyslexia or other learning disorders. That's our first message we give to potential students: "These people have the same challenges that you do. They've led hugely successful lives. You can too."
Of course, our primary method of building self-esteem is addressing the student's academic weaknesses, whether in reading, writing or math. But we don't pretend to have a quick fix. Realistically, depending on the student's disability, that effort could take years. For a youngster (or adult) who feels isolated and adrift, that is an unbearably long time to wait.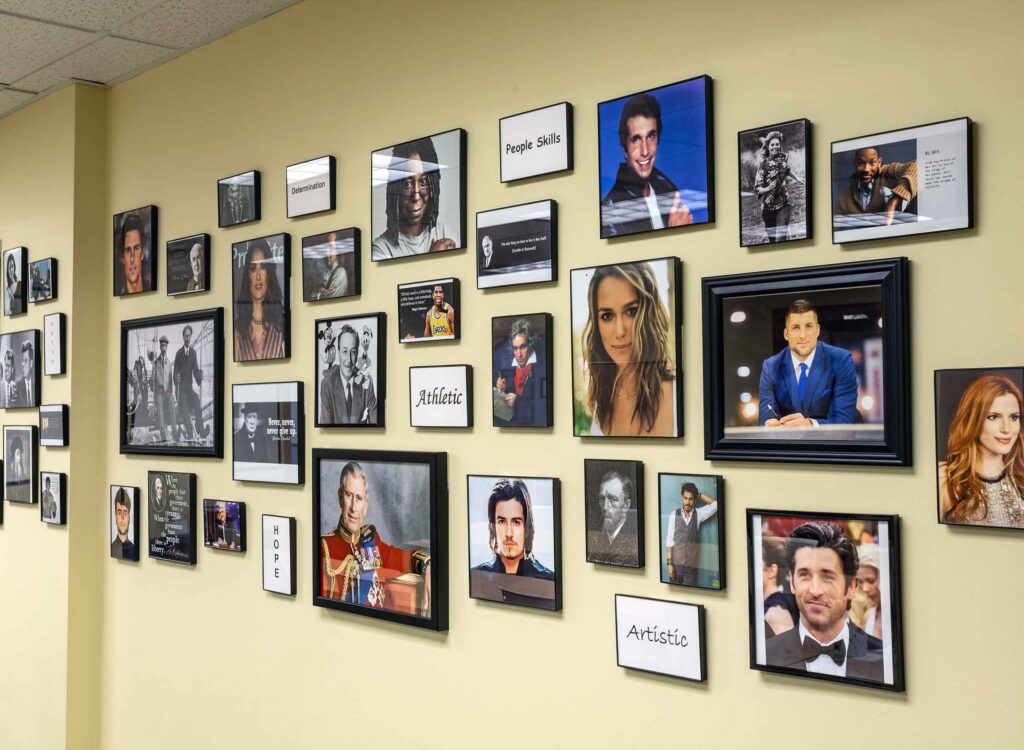 Source of self-esteem, belonging
Lawrence understands this first-hand. As a youngster, his dyslexia, dysgraphia, ADHD and math struggles made school agonizing. Fortunately, he thrived in another area.
"For me, it was sports," says Lawrence, who played football and baseball in high school and football for three years at Hope College. Sports gave him confidence, a circle of friends, and a place where he could feel at home.
"But it could be dance. We've had some really talented dancers as clients. There have been talented singers, actors, artists."
Our students have a wide range of interests. Name a sport, and an RSP student is a competitor – football, basketball, volleyball, track, gymnastics, wrestling, baseball, fencing. They've got the arts covered, too: choir, theater, band, orchestra, dance, color guard. And not everyone's talent falls within traditional extracurriculars. One former student whose passion is fishing can pull big bass out of the most unlikely looking urban waterholes.
RSP tutors understand how important outside activities are to students' personal development and their overall happiness. Tutors try to be flexible enough to work around swim practice or summer science camp or whatever a student is doing. One tutor says: "At times when their activity schedules conflict with our scheduled tutoring times, I always encouraged them to participate in their extracurricular activities. I believe that these activities help develop their physical, cognitive & social development."
Tutors become cheerleaders
Tutor support often goes beyond shuffling schedules. Another tutor tells of a student who lacks confidence in his academics because of reading difficulties, but is "a natural leader and an exceptional athlete. Everyone loves him and he is kind to all." She has cheered him on at baseball and football games "to encourage him, and because it's just plain fun."
In another instance, an online student who lives in the Traverse City area made the 150-mile trip to Caledonia for a soccer tournament. Her tutor from the Grand Rapids office went to one of the student's games to support her – and met her in person for the first time.
A tutor from the Troy office remembers attending a student's school band concert. "He actually gave me a hug. His parents seemed happy that I went, too. And of course, I enjoyed it!"
All of this is part of seeing students as complete individuals, not just an academic problem that needs to be solved.
"I always ask my students what they do outside of school," The Troy tutor says. "They nearly always share with me. I can't imagine not talking to them about their interests!"
Relationship goes beyond tutoring
Tutors have found that building relationships with students that extend beyond reading and math makes tutoring more effective.
"Sometimes you have to get on them because they're not trying as hard as they can," Lawrence says. "It helps them see that we're not doing it just because it's a job. It's because we care about these kids and want them to succeed.
"Some of these kids have it rough. We want to be their biggest cheerleaders."
RSP's goal is to always create a positive, productive environment.
"Of course, we're going to work on their weaknesses," Lawrence says, "but let's also let them build on their strengths. Because to me, if you don't build on both of them, you're not going to do as well as you hoped."